Lawmakers hear plans for massive power line: 1,700-mile corridor would bisect Idaho

BOISE - Proponents of a power line that would cut through Idaho on its way from Alberta to Las Vegas say the Gem State has everything to gain from collaborating with its neighbors on energy issues.

More Local News:
• Police charge man with felony battery
• Seminar to address restoring native plants
• Public forum highlights water management issues

The diverse Sofrito: Caribbean cuisine staple packs a flavorful punch
Senate Panel Gives Rice Confirmation Nod
5 Car Bombs Rock Baghdad Before Elections
Palestinians Vow Action Against Militants
Bush Schmoozing With Inaugural Donors
La. Court OKs Anti-Gay Marriage Amendment
Stocks
Market Watch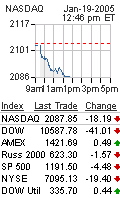 Jan 19, 2005 1:14 PM ET
ComStock 20 min. delayed

POCATELLO - Glen Joseph Fullmer, 37, Pocatello, died Sunday, Jan. 16, 2005, at his home of natural causes from an apparent heart attack.

He was born April 21, 1967, in Pocatello, Idaho, to Blaine C. and Judith Mae Rossiter Fullmer. Glen attended schools in the Pocatello area, and graduated from Pocatello High School.
He was employed at the Bonneville Senior Citizens Center for 13 years, and also did yard work and snow removal part-time. He worked as a custodian for School District 25 in Pocatello.

He was an individual who always liked to help out. He enjoyed camping and motorcycles. Glen loved animals. He was a member of Calvary Lighthouse.
Glen is survived by his mother, Judith Rossiter; his stepmother, Jo Fullmer; grandparents, Freda Lorain and Maxine Rossiter; two brothers, Mikel (Ginger) Fullmer and Shawn (Susan) Fullmer; stepsisters, RaNae (Shawn) Maney and Lynette Clifton; many nieces and nephews; and by several aunts and uncles. He was preceded in death by his father, Blaine, grandfathers, Ralph W. Rossiter and Glenn Fullmer, grandmother, Olga Fullmer Williams, step-grandfathers, Sidney Lorain (Duke) and Elmer Williams.

Memorial services will be Saturday, Jan. 22, 2005, at 11 a.m. in Calvary Lighthouse, 1633 Olympus Drive, Pocatello, with Pastor Jeff Fadness officiating.
The family will receive friends on Friday evening, Jan. 21, from 6 to 8 p.m. in the Cornelison-Henderson Funeral Home, 431 North 15th Ave., Pocatello, and also one hour prior to the service at the church on Saturday.

Cremation has been completed.
Memorials may be given in Glen's memory to the American Heart Association, Idaho/Montana Region, 270 South Orchard, Suite B, Boise, Idaho 83705.
---
This document was originally published online on Wednesday, January 19, 2005
---